Preview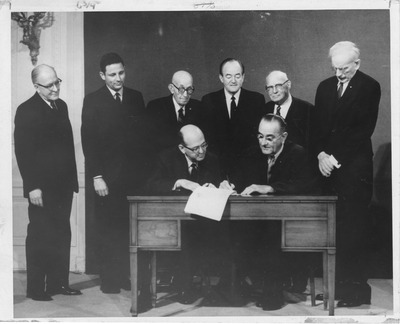 Keywords
Twenty-Fifth Amendment, 25th Amendment, Presidential Succession, Presidential Inability, Constitutional History
Description
Standing: Representative William McCulloch of Ohio; Senator Birch E. Bayh of Indiana; Senate President pro tempore Carl T. Hayden of Arizona; Vice President Hubert H. Humphrey Jr.; Representative Emanuel Celler of New York; and Speaker of the House of Representatives John W. McCormack of Massachusetts.
Seated: General Services Administrator Lawson Knott and President Lyndon B. Johnson.
Rights
Courtesy of Birch Bayh Senatorial Papers, Modern Political Papers Collections, Indiana University Libraries. All Rights Reserved.
Keywords
Twenty-Fifth Amendment, 25th Amendment, Presidential Succession, Presidential Inability, Constitutional History
COinS