Preview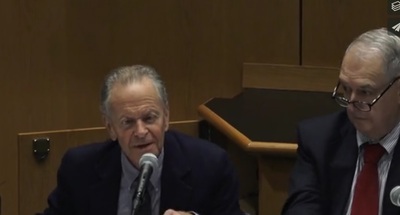 Keywords
Twenty-Fifth Amendment, 25th Amendment, Presidential Succession, Presidential Inability, Constitutional History
Description
Panel 3: After the Twenty-Fifth Amendment: The Need for Additional Reforms. Participants: Lawrence K. Altman, Medical Reporter, The New York Times and Global Fellow, Woodrow Wilson International Center for Scholars; Roy E. Brownell II, Washington, D.C. attorney; John C. Fortier, Director of the Democracy Project at the Bipartisan Policy Center; Robert E. Gilbert, Professor Emeritus, Northeastern University; James M. Ronan, Professor, Villanova University. Moderator: Akhil Reed Amar, Sterling Professor of Law, Yale Law School. Introduction of Akhil Amar by John D. Feerick.
Fordham University School of Law, September 27, 2017. Co-sponsored by the Feerick Center for Social Justice, Fordham Law Review, Standing Committee on Election Law of the American Bar Association, and the Bipartisan Policy Center.
Rights
Copyright Fordham University School of Law. All Rights Reserved.
Keywords
Twenty-Fifth Amendment, 25th Amendment, Presidential Succession, Presidential Inability, Constitutional History
COinS