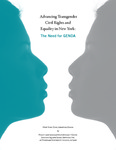 Advancing Transgender Civil Rights and Equality in New York: The Need for GENDA
Description
For some New Yorkers, the simplest and most fundamental parts of their identity– their clothing, their speech, even their names – expose them to hostility and exclusion. People who do not conform to gender based stereotypes, or whose gender presentation or identity differs from the one usually associated with their anatomical sex, often experience persistent discrimination and harassment. They face challenges earning a living, finding housing and enjoying the simple pleasures and necessities of life. Everyday activities like eating out, shopping or going to the movies carry the risk of mistreatment, refusal of service – or worse.
Currently, however, no statewide law explicitly prohibits discrimination againstpeople whose appearance or identity does not conform to gender stereotypes. This means that people who are fired fromtheir jobs, denied housing and services, and mistreated in the workplace, in stores and in restaurants merely because of their appearance or gender identity do not have clear legal protection. The Gender Expression Non-Discrimination Act (GENDA) would fix this problem by adding gender identity and gender expression to the categories currently included in New York State's antidiscrimination laws, such as sex, sexual orientation, race, religion anddisability.
This report explains why the legislature should pass GENDA. It first defines the terms "gender identity" and "gender expression." It then shows how discrimination affects the everyday lives of transgender and gender non-conforming people, and examines successful efforts in other states and in jurisdictions within New York to combat this discrimination through civil rights laws.
This paper has been withdrawn.