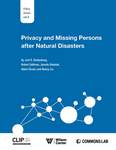 Description
When a natural disaster occurs, government agencies, humanitarian organizations, private companies, volunteers, and others collect information about missing persons to aid the search effort. Often this processing of information about missing persons exacerbates the complexities and uncertainties of privacy rules. This report offers a road map to the legal and policy issues surrounding privacy and missing persons following natural disasters. The report first identifies the privacy challenges in the disaster context and provides some recent examples that demonstrate how disaster relief information sharing raises unique privacy concerns and issues. It then outlines current missing persons information sharing activities in the context of disaster relief work and discusses how those information systems strike different balances between privacy and ease of use. The report then proceeds to identify some key legal privacy issues and examines in detail how these legal requirements apply to missing persons organizations and what interpretative challenges privacy rules present. For the analysis, this report focuses on privacy law in the European Union and the United States because these jurisdictions serve as important examples of privacy regulation around the globe. The report offers a general analysis rather than a detailed assessment of any particular activity that would depend on the application of the law of a specific jurisdiction. The report concludes with a set of options and strategies that organizations and policy makers involved in missing persons activities and in privacy could pursue to help address some of the privacy concerns.
Publication Date
3-6-2013
Rights
This report may be reproduced in whole, or in part, for educational and non-commercial uses, pursuant to the Creative Commons Attribution-NonCommercial-NoDerivs 3.0 Unported License and provided that full attribution is given.
Publisher
Center on Law and Information Policy at Fordham Law School and Woodrow Wilson International Center for Scholars
City
Washington D.C. and New York, N.Y.
Keywords
missing persons; privacy; missing persons information system, natural disaster, missing persons community of interest; PFIF; European Union Article 29; data protection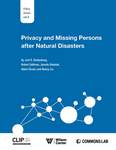 Included in
COinS